RIVERSIDE BOUTIQUE RESORT
VANG VIENG | LAOS
NEIGHBORHOOd | VIENTIANE PROVINCE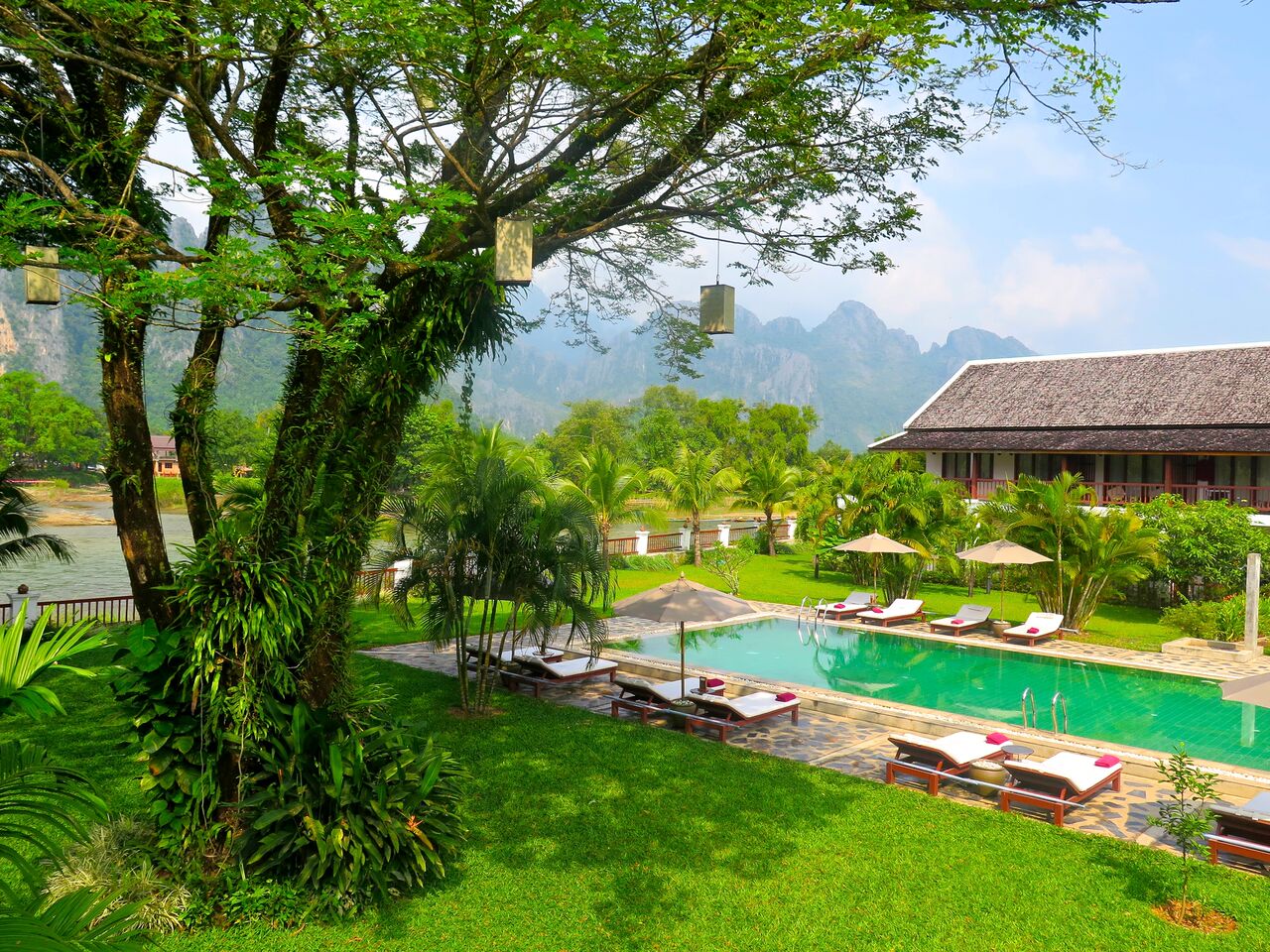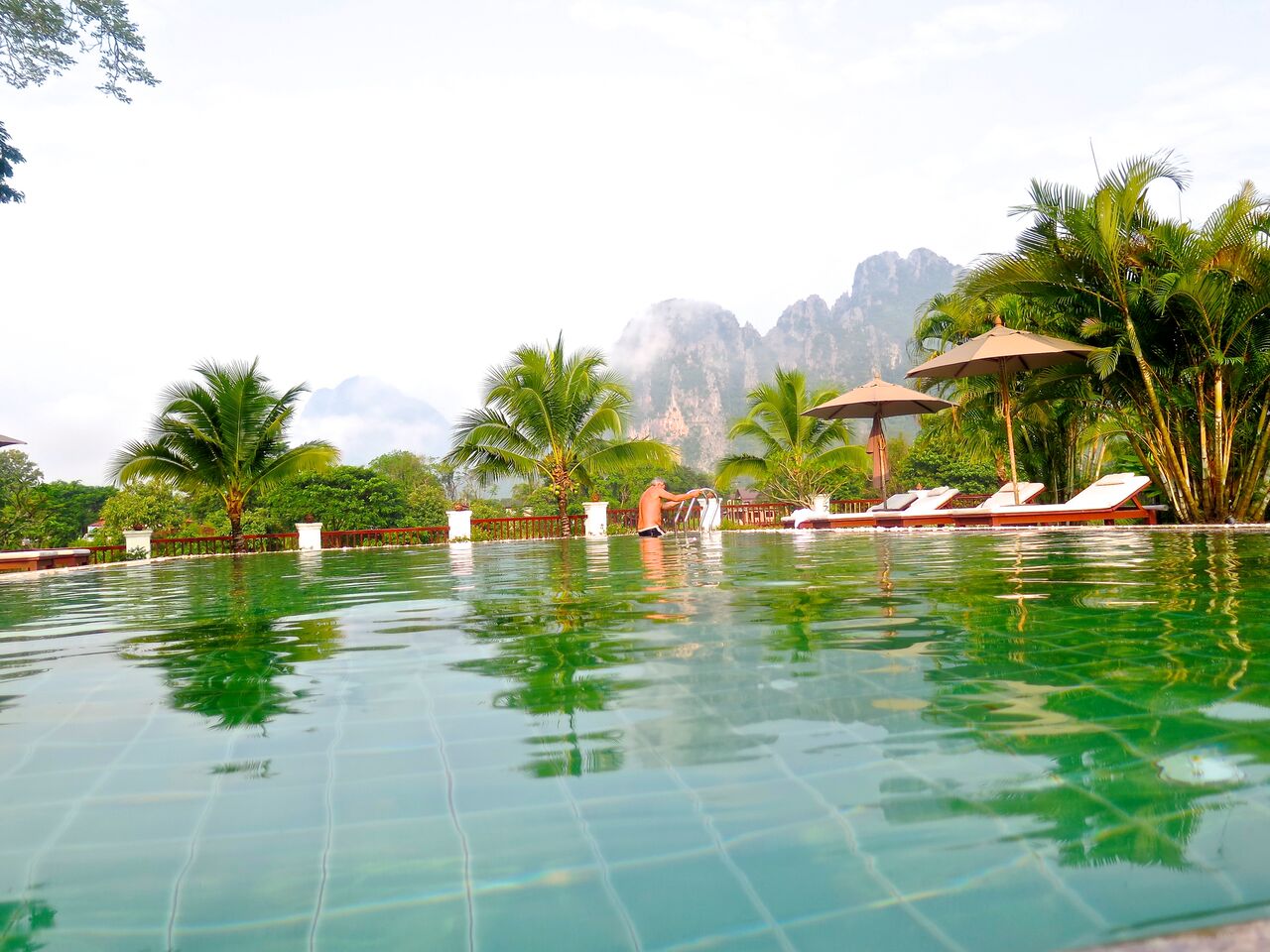 WHAT TO KNOW
PROPERTY SIZE: 34 rooms
ROOM STYLE: Indigenous
VIBE: Casual
WHAT TO LOVE
Signature River Views
Panoramic Pool Views
Herbal Spa Treatments
LUXWT AMENITIES
All LuxWT Guests Receive:
For 2017-2018:
Book at least 3 nights and enjoy a 33% saving over our Best Flexible Rates! Limited time offer!! Includes: Luxury accommodation; Daily buffet breakfast; Free bicycle use; 10% discount at bar, restaurant and gift shop. This special offer must be booked online and is non refundable.
AT THE HOTEL
Bar/lounge
Full-service spa
Front desk (limited hours)
Free breakfast
Spa treatment room(s)
Tours/ticket assistance
Restaurant
Free self parking
Pool sun loungers
Free WiFi
Outdoor pool
Children's pool
Spa services on site
Terrace
Luggage storage
Concierge services
Gift shops or newsstand
Pool umbrellas
Laundry facilities
RECREATION
Cycling off-site
Hiking off-site
Canoeing off-site
Bicycle Rental
Pool Towels
Outdoor Pool
Massage (additional charge)
Spa (additional charge)
SERVICES
Daily Housekeeping
Concierge Service
Fax/Photocopying
Souvenir/Gift Shop
Ironing Service (additional charge)
Laundry (additional charge)
24-Hour Front Desk
Meeting/Banquet Facilities (additional charge)
Room Service
IN YOUR ROOM
Bathtub or shower
Minibar
Phone
Private bathroom
Bathrobes
Hair dryer
In-room safe
Cable TV service
Free WiFi
Free cribs/infant beds
Rollaway/extra beds (surcharge)
LUXWT Prime Review
By Emily Eisenberg @Eisenbee
The Riverside Boutique resort is the gem of the small Laotian town of Vang Vieng. We woke up to a beautiful view from our balcony of the sunrise and fog rolling in over the mountains, with a perfect reflection off the pool. The luxury hotel is situated alongside the Nam Song River, centered around the exceptional panoramic views of the mountains, river and tranquil gardens. While sitting in the plush poolside lounge chairs surrounded by the lush landscapes, you can hear the relaxing sounds of the flowing water, making this the ultimate serene environment.
We enjoyed breakfast on the restaurant terrace overlooking the river and mountainous landscape. The complementary buffet was extensive, with a make your own omelet station, along with a large selection of freshly squeezed juices!
The location of the hotel is optimal. It is a short walk into a main street where we enjoyed shopping, massages, and lots of local cuisine. To get into the center of town, it is about a 10 minute walk or an easy one minute tuk tuk ride, which is a fun little adventure in itself!
The service at the hotel was impeccable. We needed a car to get us to Luang Prabang, and they helped us arrange the car service with ease. Throughout our stay, we were well taken care of, at all hours!
I highly recommend this hotel when visiting Vang Vieng, for the unbeatable views, location, and service. We would love to get back here and spend more time lounging at the pool in the beyond serene environment.
About the Hotel
Ideally located on the bank of the Nam Song River, multi-award winning Riverside Boutique Resort is a luxury hotel with charm and character. It is laid out around one of the most inviting swimming pools to be found in Laos, and offers stunning views of the surrounding lush landscapes and forest-clad limestone mountains.
Thirty-four rooms with large balconies are located within the tranquil gardens. Each has a stylish and subtly different design that combines exotic wood and rattan furniture, soft furnishings reflecting the traditions of eight Lao ethnic groups, and authentic art and craftwork by local artists and artisans. An herbal spa is also part of the hotel, comprising three traditional pavilions looking over the river.
In addition to celebrating the cultural and natural diversity of Laos, the Resort is an invitation to relaxation and serenity that will never fail to charm those looking for peace and romance.
The center of town is a ten-minute walk away, and a small bamboo bridge next to the property leads to a quiet village on the western bank. It is a perfect departure point to explore the countryside on foot or bicycle.
SPA
Offering spectacular views over the karst hill landscape and the surrounding scenery, Riverside Sala Spa is a world apart where guests will discover the pleasure and benefits of traditional Lao therapies, combined with modern Western techniques.
Exclusive treatments have been designed from age-old local practices and medicinal herbs, including the Riverside Signature Journey that ends with an herbal sauna session facing the mountains – An experience not to be missed, and the best way to release stress and impurities from your body.
Riverside Sala Spa promotes the use of natural herbs and treatments from Laos. While our massage oils and body lotions are high-quality products imported from Thailand, the Riverside Signature Journey as well as the Hot Herbal Lao Therapy make use of natural plants, compresses and herbal medicines made in Laos.
restaurant du Crabe d'or
"Restaurant du Crabe d'Or," named after one of Vang Vieng's most famous caves, offers indoor seating, to enjoy the air-conditioned comfort of an elegantly set-up room on the first floor, as well as outdoor seating, to take full advantage of the river view and tropical garden with a magnificent backdrop of limestone mountains.
In the romantic setting of "Restaurant du Crabe d'Or," discover authentic Lao dishes, prepared with fresh local ingredients, or enjoy a more traditional Asian and French cuisine. All meals are complemented by fine wines from France and Chile as well as coffee from the Boloven Plateau.
Guest Rooms & Suites
Riverside Suite
Riverside Boutique Resort provides two superb suites (approximate size: 64 square meters) luxuriously designed and equipped with wooden furniture.
The suites display exclusive fabrics and artefacts from the Tai Daeng and Yao ethnic groups. They each benefit from a private wrap-around balcony, facing the garden and swimming pool on one side, and facing the Nam Song river and Vang Vieng's limestone mountains on the other side.
Bedroom with king-size bed, opening on a balcony facing the swimming pool and the garden
Ensuite living room with dining area, opening on a large terrace facing the river and the mountains
Large bathroom with shower over bath
Hair dryer and bathrobes
Soaps and shampoos produced by "les Artisans Lao" from natural tropical plants
Mini bar
Tea & coffee-making facilities
Personal safe
Local and international direct dial telephone
Free WiFi access
Cable TV
Individually controlled air conditioning