GRAND VELAS RIVIERA MAYA
PLAYA DEL CARMEN | MEXICO
NEIGHBORHOOD: RIVIERA MAYA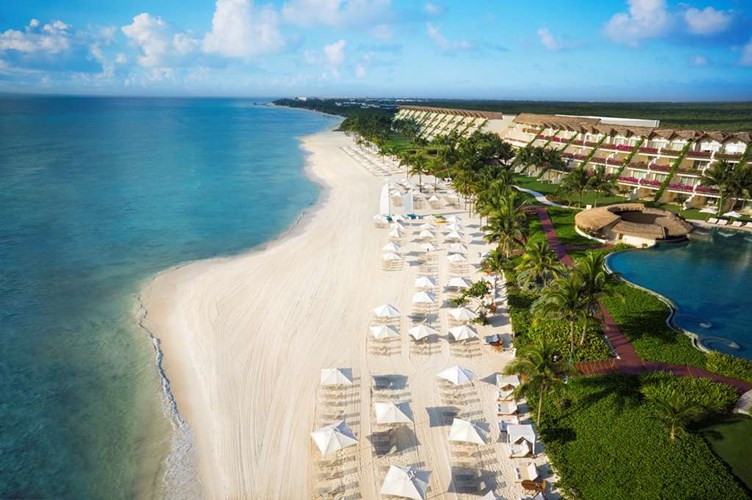 WHAT TO KNOW
PROPERTY SIZE: 539 rooms
ROOM STYLE: Contemporary
VIBE: Casual
The Spa at Grand Velas offers massages, body wraps, facials, manicures, couples rituals and more. Be sure to book the blissful Riviera Maya Water Journey.
WHAT TO LOVE
Private Zen Suites
Unlimited Food and Drinks
Beautiful Ocean Front Rooms
LUXWT AMENITIES
All LuxWT Guests Receive:
Upgrade on arrival, subject to availability ( From Zen Grand to Zen Grand Pool / From Ambassador to Ambassador Pool / From Ambassador Pool to Grand Class )
Daily Buffet breakfast, for up to two in room guests
Complimentary one-way private airport transfer ( From Airport to the Hotel ) . Must be arrange at least 48 hrs prior arrival through our Virtuoso Specialist at virtuosospecialistrm@grandvelas.com, one transportation confirmed per family (booking) arriving together.
SPA Credit: $ 50 USD per person, per night SPA Bonus applicable on massages, facials and body wrap treatments with a duration of 50 min or more (Not transferable between guests, Not cumulative, Not redeemable for cash, Unused balances will not be refunded, Not combined with other Spa promotions, Not applicable on SPA Boutique products, Beauty Salon, Hydrotherapy Circuit, Not applicable on treatments available in SPA Cabanas (outdoor areas at Ambassador), Applicable on treatments with a duration of 50 min or more.
A welcome bottle of tequila
Early check-in/late check-out (Upon availability at Check-in)
Complimentary Wi-Fi
AT THE HOTEL
All-inclusive
Business Center
Children's Programs
Conference Facilities
Culinary Program
Internet Access
Lounge/Bar
Restaurant
RECREATION
Fitness Center
Pool
Spa
Water Sports
IN YOUR ROOM
Bathrobes
Butler Service
Complimentary Coffee/Tea
Iron/Ironing Board
Mini Bar
LUXWT Prime Review
By Mario Del Duca
When you think of all-inclusive hotels and resorts what comes to mind? It's very likely you don't think of luxury, or quality food, or attentive service. Well, we found an all-inclusive that would probably be better defined as "a very exclusive all-inclusive" - its luxurious, the food is amazing and the service is good too! It might not sound like many all-inclusives but this one definitely broke the mould!
We were at Grand Velas for three nights and had heard great things about it but, if we have to be completely honest, we were slightly suspicious due to the fact that life has told us that all- inclusives are not the place to be! But from the moment we were arrived our suspicions were blown away by very attentive service, including a butler service for our huge and luxurious Grand Class room and the great touches that we started to see round the room. We had a plunge pool with view of the Caribbean, an extremely large tequila bottle (yes, all included) and the beach bag ready to be whisked away to one of Mexico's most famous beaches!
The resort grounds are very large and include a huge area of protected mangrove forests and part of the resort even has its own cenote (a natural sink-hole) in the grounds near the spa which is in the Zen Class building. The rooms in this building are not on the beach, which is just a short 3 or 4 minute shuttle bus ride away, but this is compensated by having a room with a nicely sized plunge pool and a view onto a lagoon full of exotic fish and turtles as well as by the amazing pool.
The award-winning spa at Grand Velas is sensational - it has been voted one of the best in the world primarily because of its incredible hydrotherapy circuit which was a memorable experience. Be prepared for significant temperature changes in the water as you go around the circuit but the health and physical benefits are obvious very soon into the process! We were not surprised to hear that Virtuoso actually voted this particular spa as the best in the world in 2010.
There are several pools around the property including the jungle pool at the Zen building, a huge family-friendly pool at Ambassador class and a beautiful adults-only pool at Grand Class. Each pool has its own bar so there is no risk of getting thirsty and the waiters are keen to please. There are a couple of very well-equipped gyms around the resort as well as a teens room which struggles to keep the adults out as it's so inviting with its pool table, table-tennis table, video games and bar (non-alcoholic of course) which even gives classes on how to make cocktails.
There are seven restaurants to choose from at Grand Velas and all of the ones we visited were extremely good quality. In fact we thought that Lucca had some of the best Italian food we've had outside Italy and Cocina de Autor is a fantastic avant-garde restaurant run by some of the best chefs in Mexico. This was a truly memorable experience with a total of 11 dishes including wine pairing in an intimate room with a lone clarinet player. If you're not staying at the resort but are in the Riviera Maya area, make a plan to visit one of these restaurants - it won't be cheap but it will be amazing! If you are staying at the resort, like us, then you won't have to spend an extra penny as everything is included in your room rate. We are tempted to say that we had some of the finest meals we have had on our travels at Grand Velas!
When we think of all-inclusives Grand Velas is definitely a game-changer. It will change your perception of all-inclusive for good and we think this resort is a great template for how all all- inclusives should be. In fact many high-end hotels and resorts around the world could learn a thing or two from Grand Velas especially when it comes to haute-cuisine.
Who is Grand Velas ideal for? Families, groups and foodies!
About the Resort
Grand Velas Riviera Maya has been member of the Leading Hotels of the World since 2009, recognized as AAA 5-Diamond property since 2010. Diverse upscale accommodations options include uniquely exotic jungle and ocean view suites; luxury suites have been carefully designed to complement our naturally breathtaking surroundings and seduce your senses.
ACCOMMODATIONS
With three magnificent ambiances, Grand Velas Riviera Maya features 539 luxury suites designed in harmony with the natural landscape. Indulge your senses in spectacular Riviera Maya suites that embody lavish living with contemporary Mexican décor and over 1,100 square feet of space for relaxing in the Caribbean. All of our suites feature private terraces with views of the ocean or lush jungle, plunge pools, whirlpool tubs, 42" plasma TVs, wireless Internet, and 24-hour room service. Whether you desire a tranquil vacation with adults or a fun family getaway, our exclusive Riviera Maya suites surround you in luxury, style and the modern conveniences of home.
DINING
Grand Velas Riviera Maya features the top restaurants in Riviera Maya, featuring the artistry of acclaimed chefs from around the world, including Spain,Italy, France and Mexico. Grand Velas has reinvented the all inclusive concept by offering sumptuous luxury dining experiences, including chic gourmet restaurants, casual family bistros, outdoor eateries with ocean views, poolside bars, and hip lounges. From molecular cuisine to modern French fare to Asian fusion, our Playa del Carmen restaurants feed the soul with culinary adventures and beautifully designed spaces.
SPA
Awaken your spirit and refresh your body in our Grand Velas Riviera Maya Spa - named "Best Spa in the World" by Virtuoso in 2010. A calming sanctuary built in harmony with the natural jungle, the Spa brings the concept of pleasure and wellness to a luxurious new level. The Spa features massage, body wraps, facials, manicures, romantic couples's rituals, water journey and the Seven World Journeys spa menu.
Edging the lush and spiritual jungle, our blissful Riviera Maya spa resort transports you to a world of wellbeing through a revolutionary hydrotherapy circuit including a clay room, ice room and experience pool, and features aromatic essences, flowers, candles and hot smooth stones. At the end of your spa journey, tension and stress will have melted away and inner peace reached.
The Spa at Grand Velas features 42 treatment suites with beautiful native art work and separate hydrotherapy facilities for men and women. Our extensive Spa menu includes massage therapies for men, women and couples, body treatments and wraps, facials, and our incredible Riviera Maya Water Journey - a true escape to bliss. To extend the benefit of your beauty treatments, visit our Spa Boutique with exclusive spa products.
Best of the best
From enchanted scenery to unique dining atmospheres, Grand Velas Riviera Maya has ushered in a unique vacation experience in which passion, luxury and exceptional service merge to create lasting memories. Awaiting you are more than 1,600 feet of white-sand beach; 539 nature-view, oceanview and oceanfront suites with an average dimension of 1,000 square feet; connecting suites; award-winning chefs overseeing five dining venues on par with the world's finest restaurants; a luxurious spa; and, of course, local hospitality.
Guest Rooms & Suites
zen grand pool suite
This suite, located in the heart of the Mayan rainforest, is the perfect retreat for a great family vacation. Immerse yourself in Mayan paradise, revitalize in the private plunge pool located on the terrace, or unwind in your comfortable bed while listening to the sounds of nature.
● King size bed, or two Queen size beds
● Private terrace with sitting area and plunge pool
● Living area with sofa
● Bathroom with shower and separate Jacuzzi
● Bathroom Vanity
Size: 1184 sq. ft.
grand class suite
Considered the ideal honeymooners suite. Relax on your balcony and enjoy with your couple the extraordinary view of blue-turquoise sea. During your stay you are offered the most luxurious amenities, spacious high quality areas and absolute tranquility. Romantic nights await you.
● A King size bed, or two Queen size beds
● Terrace with private plunge pool and sitting area
● Living room with contemporary type sofas
● Spa-type bath, with separate shower and Jacuzzi
● Walk-in closet
Size: 1,377 sq.ft.
ambassador presidential suite
2 bedrooms, one with a King size bed and the second one with two Queen size beds. Ocean-front viewPrivate terrace with swimming pool and sitting areaSitting area with modern sofa2 bathrooms with double shower: rain and handMassage in the suite areaIndoor JacuzziWalk-in closet
Size: 3,094 sq.ft.
Ocean Front
Bathrobe
Coffee/Tea Maker
Hair Dryer
Iron/Ironing Board
Mini Bar
Safe
ambassador pool suite
Feel the excitement and pleasure within these fabulous suites with stunning ocean views. Take pleasure in this spacious suite with an area of 1270 sq.ft. and admire the stunning views of the turquoise sea, beach, and the private plunge pool. Enjoy a memorable stay in the company of your family in this amazing suite decorated with a Mexican contemporary style. It is equipped with all you need.
King size bed, or 2 Queen size bedsPrivate terrace with sitting area and poolOceanfrontLiving area with shower and separate JacuzziConnections to other suites are not available
Size: 1,270 sq.ft.
zen grand presidential suite
This attractive suite delights couples and families due to the amazing space it offers. Enjoy luxurious amenities that complement the mystic Mayan natural environment, and admire stunning views of the rainforest. This suite was exclusively designed to live a relaxing and peaceful vacation. In addition, as a special amenity, enjoy a revitalizing massage per day, personalized 24-hour Concierge service, and VIP transportation to and from the airport.
● King size bed and / or two Queen size beds
● 2 full bathrooms with rain showers and Jacuzzi
● Marble dining table for 8 people
● Living room with sofa
● Private terrace with sitting area and plunge pool
Size: 3,518 sq. ft.
Grand Class presidential suite
The Grand Class Presidential suite is the perfect refuge for your dream vacations. Feel the comfort during your stay, and invite your family to enjoy exclusive nights in this spacious area. Discover unique amenities and let yourself be pampered with unsurpassed personalized service; which includes 24-hour Personal Concierge, daily 50-minute massage, and VIP transportation.
● 2 bedrooms, one with King size bed, and one with two Queen beds
● Private terrace with ocean view and plunge pool
● Living area with contemporary type sofas
● Bar area with premium liquor and beverages
● In-suite massage area
● Walk-in closet
● Dining table for 8 people
Size: 3,796 sq.ft.