GRACE SANTORINI
SANTORINI | GREECE
NEIGHBORHOOD: imerovigli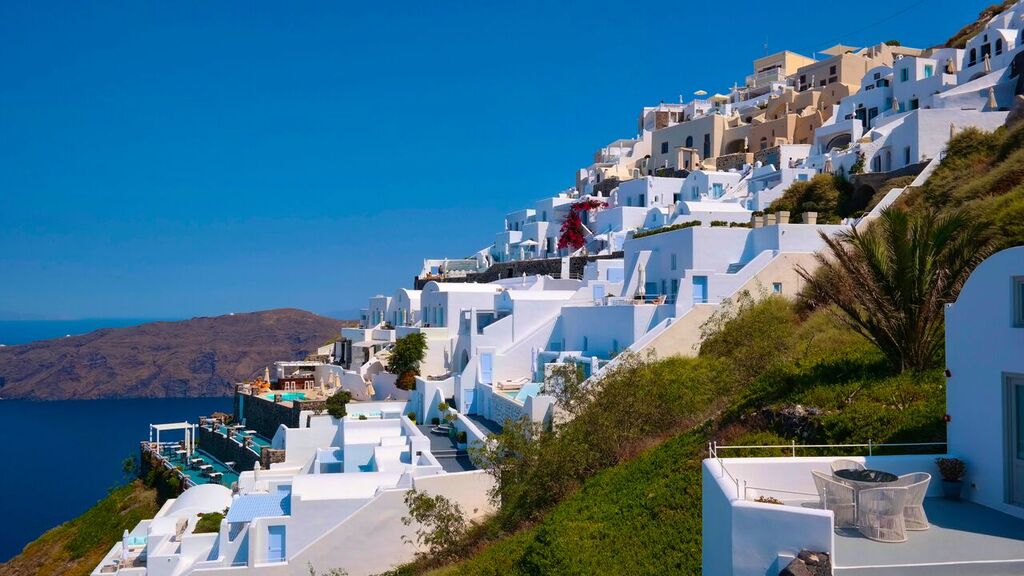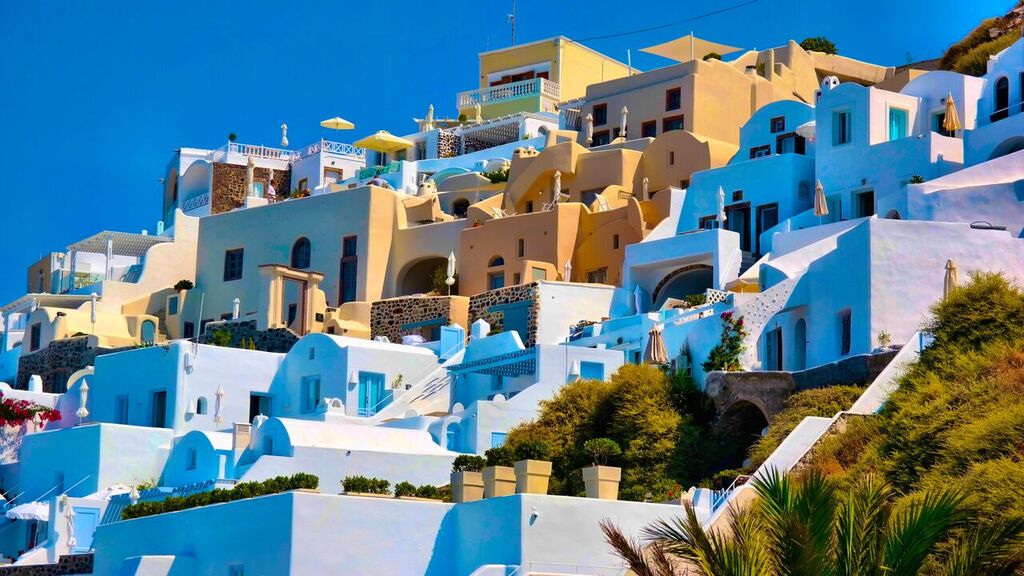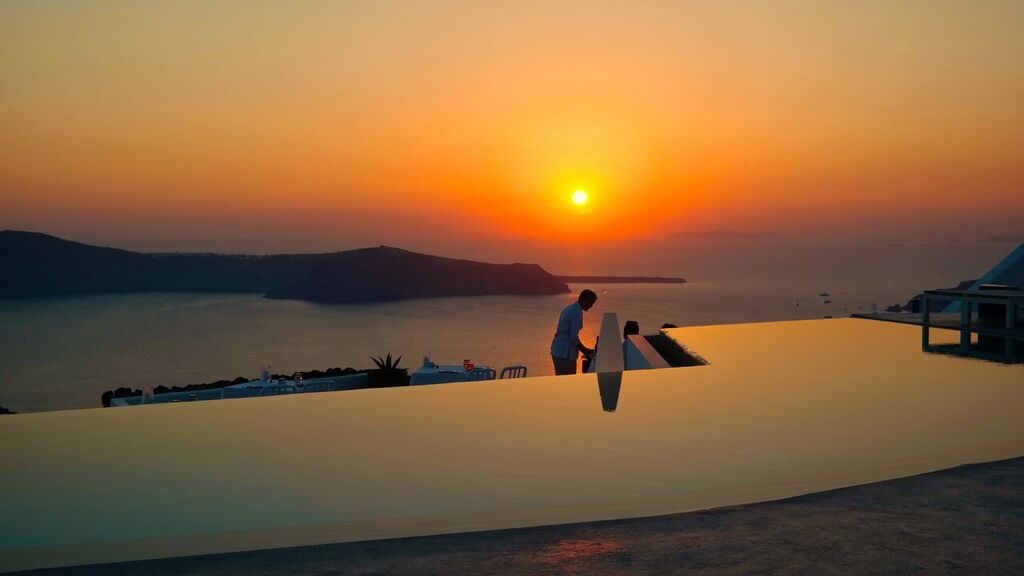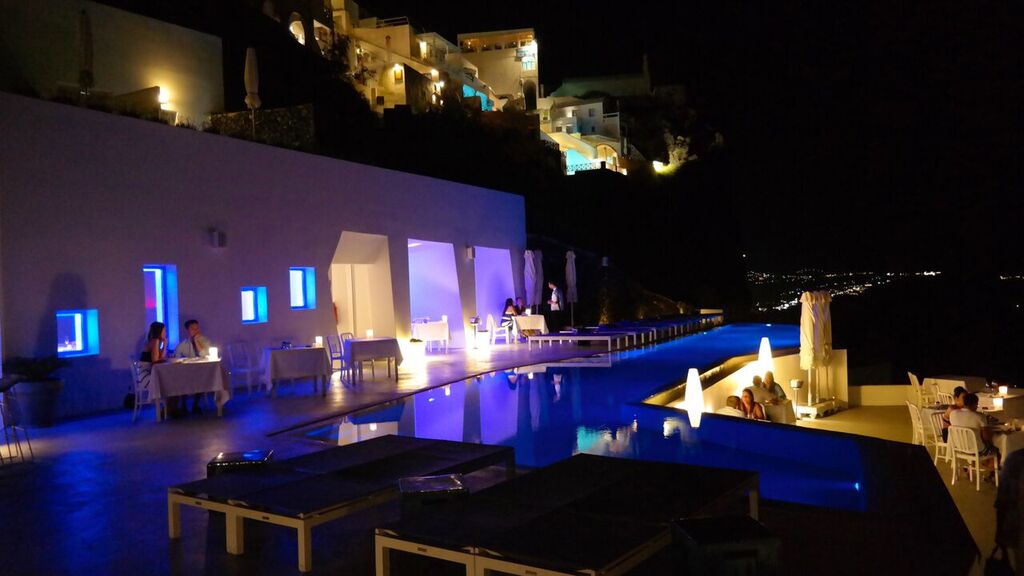 WHAT TO KNOW
PROPERTY SIZE: 21 rooms
ROOM STYLE: Eclectic
VIBE: Sophisticated
The awarded Santoro restaurant, where Greek Mediterranean cuisine meets contemporary trends, is not to be missed.
WHAT TO LOVE
Luxurious Cliffside Views
Privacy
Private Plunge Pools
LUXWT AMENITIES
All LuxWT Guests Receive:
Upgrade at time of arrival, subject to availability
Complimentary full breakfast for two daily for duration of the stay served in our restaurant
Complimentary one-way private airport transfers
A complimentary private yoga class for up to two people, per room, once during stay
Early Check-in/Late Check-out, subject to availability
Complimentary Wi-Fi
AT THE HOTEL
Air Conditioning
Connecting Rooms
Culinary Program
Internet Access
Lounge/Bar
Restaurant
Shopping
Villas
RECREATION
IN YOUR ROOM
Bathrobes
Complimentary Coffee/Tea
Hair Dryer
Mini Bar
Safe
Slippers
LUXWT Prime Review
By Joseph Diaz @j2thefresh
I've died and gone to heaven, no wait I've entered in to the wonderful world of the Grace Hotels.
The Grace Santorini is an award winning majestic oasis picture perfectly placed in the Greek village of Imerovigli. Throughout the 22 rooms of the hotel, the fresh and elegant design touches invoke calm, luxury and intense pleasure. The views are scintillating and spectacular, sexy and sophisticated.
Prior to arrival The Grace exudes a warm welcoming attention to detail with their Online Bespoke Service. Here guest can select between a varieties of In-Room Fragrances, Natural Shower Gels, Apivita branded toiletries and my absolute favorite a detailed Pillow Menu. Along with the Online Bespoke Form, your travel itinerary is kindly requested in order to arrange luggage assistance and transfer to the hotel.
Check-In was a breeze. Literally. Soaking it all in on the sun kissed terrace adjacent to the lobby overlooking the Aegean Sea, we were greeted by the Grace team, and flutes of champagne for our satisfaction.
The champagne doesn't stop in the lobby; we were delighted to find an in-room complimentary bottle of bubbly accompanied by a delectable platter of fresh fruit. Rooms, Suites and Villas are decked out with King Size beds, flat screen Plasma TV's, CD/DVD players, fully stocked mini bar, air-conditioning, Nespresso machine.
Rooms are romantic recluses, with heated personal plunge pools. Outdoor terraces from the cliffside rooms allow for astounding views of the Aegean Sea, the Caldera, and the eye catching Skaros Rock. If your not admiring the grand views, or swimming in the oversized infinity pool, you're admiring the extraordinary service provided by Dimitri, Olga and the rest of the staff at the Grace Santorini.
Dining at The Grace is an experience just as spectacular as the views that accompany it. Meals are served on poolside tables on the sun terrace. Champagne breakfast is daily until 11AM. We're talking about warm freshly baked breads, and homemade jelly & jams and traditional Greek pastries. Every morning the chef creates a delicious menu with recommendations of egg and/or pancake dishes. Fresh fruit smoothies and desserts are also made fresh every morning.
Chef Agious's multi-course dinner degustation menu is not to be missed. Uniquely flavored dishes like Sea urchin, raw beetroot and garlic sprouts, to the succulent seared octopus, deep fried polenta and lime truffle honey dressing. Everything on the menu is top notch. Chef Spiros Agious, brings his appealing, artistic, approach to Greek fine dining. Evening dinners are best scheduled with Santorini's spectacular sunsets. For a more romantic setting, the two infinity edge poolside caves with accent LED lighting are a great choice.
Ultimately, The Grace is the upper echelon, crème de la crème of luxuriousness when it comes to hotels in Santorini. From remarkable views to outstanding service, its no wonder The Grace has been awarded Best Boutique Hotel in Greece. Undeniably, in a league of its own, The Grace is your one and only selection when visiting Santorini.
About the Resort
Grace Hotels is an exclusive, privately owned group of luxury boutique experiential hotels in the world's most stylish destinations and resorts - from Greece to the United States to Argentina and Panama. Our promise is elegance, simplicity and supreme service.
ACCOMMODATIONS
Grace Santorini in Imerovigli truly brings luxury accommodation in Santorini to new heights. 2016 sees the launch of our newly refurbished rooms and suites, which, whilst maintaining the Grace hallmark of elegance and simplicity, will have a contemporary style, combining cutting edge, bespoke design alongside traditional handcrafted pieces. The luxurious bathrooms will offer double vanity units with marble carved basins and spacious rain showers with mosaic feature walls.
From the luxury rooms to the expansive sea view suites, and then to The Villa offering the most extensive, and dramatic hotel accommodation in Imerovigli and possibly on all of Santorini, enjoy the classic, elegant simplicity of Grace with panoramic views of Santorini's iconic Caldera and legendary sunsets.
The luxury suites include the Grace Suite with its ultra-luxurious en-suite bathroom, "hammam" steam bath and separate interior plunge pool with its own Caldera view, making it ideal for honeymooners. Some of the suites feature a unique 'one-way' window treatment: fragments of volcanic rock are positioned in the window spaces and interspersed with gaps that provide a Caldera view that is unique in Imerovigli as well as being magical.
Each room features a beautiful terrace overlooking the spectacular Caldera. For extra privacy and seclusion we recommend experiencing our Superior, VIP and Grace Suites with plunge pool.
DINING
Grace Santorini invites guests to relish the best in Mediterranean fusion gastronomy and experience dining at its finest in its elegant, sea view restaurant or under the open sky. Balmy evenings are complemented by signature cocktails at the Grace Pool bar and the stunning views of the sparkling Aegean Sea.
Facilities
At Grace Santorini, your comfort and wellbeing is of the utmost importance. Our boutique gym and in-room spa treatments are at your service allowing you to maintain fitness and stay relaxed while on holiday. Naturally our five-star service offers a daily change of linen, bath towels and amenities, twice-daily maid service, immaculate cleaning of common areas and a luggage service. For those who wish to dine with the utmost in privacy, room service is available 24 hours. And in order to make the most of every possible moment beside the pool, we offer an express check-out service.
Additionally, a wide range of entertainment choices are available within or outside the hotel. From movie nights to island excursions, helicopter transfers and private cruises, the hotel's concierge is ready to enhance your Santorini experience with something special, unusual or unique.
DESTINATION
Santorini is one of the southernmost Greek islands of the Cyclades in the Aegean Sea. Its ancient history of volcanic activity formed the island's dramatic landscapes of today. Imerovigli is a popular destination for romance and relaxation, and renowned for the mystique and beauty of its sunsets. Whether it's a honeymoon in Santorini, a family holiday or a short break, this pocket guide contains our concierge's carefully chosen recommendations, including places to visit, restaurants and bars, together with ideas for half day and full day trips.
Guest Rooms & Suites
Deluxe room
The Deluxe room features a king-size bed, a Smart-System TV, an en-suite bathroom with shower, sofa and an abundance of natural light. Its balcony features an outdoor seating arrangement and offers breathtaking sunset and sea views. (Interior: 32 sq.m, Exterior: 13 sq.m)
Ocean View
Bathrobe
Coffee/Tea Maker
Hair Dryer
Mini Bar
Safe
Slippers
junior suite
Our unique Junior Suite offers spacious accommodation and has it's own distinctive touch of style with a wide terrace offering a breathtaking view of the Caldera. Perfect for couples looking for a classic romantic Santorini boutique hotel experience. The Junior Suite has a king-size bed and large seating areas both inside and on the terrace.
Ocean View
Bathrobe
Coffee/Tea Maker
Hair Dryer
Mini Bar
Safe
Slippers
vip suite with plunge pool
The VIP Suite offers luxury accommodation on Santorini unobstructed views to the Caldera and Skaros Rock. It features a private entrance and has the largest terrace and personal heated plunge pool in the hotel, which includes a seating arrangement beside a double sun lounger. This Suite also has an innovative and unique lava rock feature in front of a panorama window, which adds to the privacy feel and creates wonderful light displays as the sunlight filters through. The Suite's bedroom includes a king-size bed, extra-wide screen TV, and an en-suite bathroom that features a shower/steam room for two. The open plan seating area includes a built-in sofa which may be converted into a single bed.
Ocean View
Bathrobe
Coffee/Tea Maker
Hair Dryer
Mini Bar
Safe
Slippers
The villa
Experience the ultimate in Santorini luxury accommodation with The Villa. Revel in the unmatched privacy of your own 400 sq m luxury suite and private spa in Imerovigli– perfect for couples. Two exquisite bedrooms (including the 75 sq m master), complete with king-size beds and their own bathrooms with personalised bathrobes, look out towards a panoramic view of Santorini's azure blue skies, sparkling ocean and of course the legendary Santorini sunset.
Ocean Front
Bathrobe
Mini Bar
Balcony/Lanai/Terrace
Private Pool
Deluxe room with plunge pool
The Deluxe room with plunge pool has a king-size bed, a Smart-System TV, and an en-suite bathroom with shower. The terrace features a personal heated plunge pool and a seating arrangement to enjoy views of the Caldera, Skaros and the Aegean sunsets. (Interior: 34 sq.m, Exterior: 20 sq.m)
Ocean View
Bathrobe
Coffee/Tea Maker
Hair Dryer
Mini Bar
Safe
Slippers
junior suite with plunge pool
Each individually designed Junior Suite offers spacious accommodation with its own distinctive touches of style. The terrace has views of the Caldera and features a personal heated plunge pool, complete with an outdoor seating arrangement. Inside the Suite, there is a king-size bed, open-plan living area and a spacious bathroom with an oversized shower. (Interior: 45 sq.m, Exterior: 26 sq.m)
Ocean View
Bathrobe
Coffee/Tea Maker
Hair Dryer
Mini Bar
Safe
Slippers
Grace suite with plunge pool
The Grace Suite epitomises what people look for in a luxury suite in Santorini with a Caldera view. A tribute to the understated elegance that has become a hallmark of Grace Hotels. The luxurious Grace Suite offers premier accommodation, with glorious views over the Caldera and of the sun setting on the Aegean. Designed to perfection, these suites seamlessly blend spellbinding views, awe inspiring design and the most unique elements of luxury one can imagine. Each Grace Suite opens out to a terrace which features comfortable sun loungers, a seating arrangement, and an alluring private heated plunge pool. The suite includes a spacious bedroom with a king-size bed, a Smart-System TV, and a comfortable seating area. An ultra-luxurious en-suite bathroom features a steam bath and a separate interior heated plunge pool featuring views of the horizon.
Ocean View
Bathrobe
Coffee/Tea Maker
Hair Dryer
Mini Bar
Safe
Slippers